Live Report January 25th, 2021 – Sink Overflow in Freehold, NJ
Four man crew dispatched to sink overflow water damage inspection in Freehold, NJ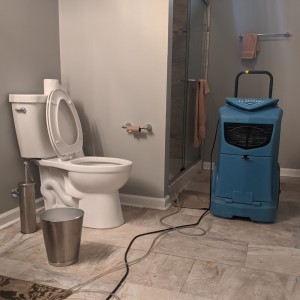 An emergency call was made at eight o'clock last night about an unexpected sink overflow in a beautiful home in Freehold, NJ. The client's overflow effected the bathroom, parts of a bedroom, the basement bathroom, and adjoining room. We dispatched our team over, walked the homeowner through the drying process, and started getting to work promptly by extracting water and starting the drying process.
Work continued today, in which a lot of the morning was spent searching the home for wet areas, that way future time would be spent effectively drying the appropriate areas. These parts of the home were contained, and our workers got to work. We will sanitize and dry out the effected materials, and leave equipment to clean and scrub the air once our crew has left the home.
[Water damage Inspection/First Inspection:] Wet carpeting, Wet Tile, Wet Vents, Damaged Drywall, Water Damage Floor, Basement, Bedroom, Bathroom Sink Overflow Freehold, NJ
Water damage in your home is one of the most annoying occurrences, and walking in to discover it has flooded from a forgotten faucet can ruin your week. If you are experiencing any kind of Emergency Water Damage in Freehold, NJ, we can help in just 60 minutes.
Call today! (732) 617-6111
Our specialists are local, dependable and, IICRC certified; we are always on standby to guide you through all your water crisis needs. AllStates Restoration has been a New Jersey leader in water damage restoration for over 8 years, and have over 25 years of combined experience in the cleaning and restoration field.
We provide a 100% customer satisfaction guarantee, and we boast a 5 star rating from previous customers on Google.
[google-map location="Freehold, NJ"]
Loss Located In Historic Manalapan, NJ