Live Report February 23rd 2021 –  Soot Damage in Living Area
Crew Sent to Living Area Soot Damage Clean Up in Brick Township, NJ
We had a client call last month with news that their furnace had a puffback! We were happy to hear no one got hurt, unfortunately a lot of contents are damaged in the Brick Township home from the puffback. We started by documenting and cleaning floors, walls, and appliances from the home. All of the homeowner's furniture is already back and cleaned by our content team. We went through the home and cleaned the house of soot damage and got the homeowners back to were they were before this disaster struck.
We will be sending a crew out to finish cleaning the outside of the house and finish this project with happy clients!
ASR 24/7  for Any Fire Damage in Brick Township
Fire damage in your home can be a shock and can ruin so many precious keepsakes. At AllStates Restoration we can understand your frustration and loss.  If you are experiencing any kind of Emergency Fire Damage in Brick Township, NJ, we can help in just 60 minutes.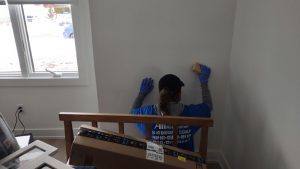 Cleaning EVERYTHING in the homeowners' home
Our specialists are local, nice, easy to talk to, and IICRC certified; we are always on standby to guide you through all your fire crisis needs. AllStates Restoration has been a New Jersey leader in fire damage restoration since 2008 and have over 45 years of combined experience in the cleaning and restoration field.
We care about our customer satisfaction, and we boast a 5 star rating from previous customers on Google, Customer Lobby, and Angie's List.
[google-map location="Brick Township, NJ"]
Soot Damage Clean Up Project Located In Brick Township, NJ