Live Report – Kitchen Mold Cleanup in Brick Township, NJ
Crew dispatched to mold inspection and cleanup in Brick Township, NJ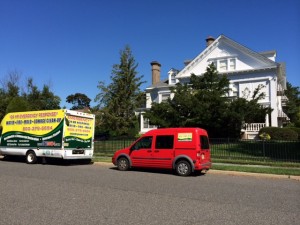 Previously, AllStates Restoration was called to the home regarding water found in the living room and kitchen. When starting the drying process in the kitchen, we found water in the walls, and this required removal of the kitchen cabinets. When removed, we found substantial mold growth that demanded our attention. We walked the homeowner through the process; once the water damage was dried out, we removed the cabinets in order to gain access to the damage. We used air scrubbers to remove airborne mold, and in the future will have to HEPA vacuum the walls and ceiling, and spray anti-microbial to kill and remove any future mold growth.
Mold damage in your home is one of the most annoying occurrences, and discovering unknown and unwanted mold growth can ruin your week. If you are experiencing any kind of Emergency Mold Damage in Ocean County, NJ, we can help in just 60 minutes.
Our specialists are local, dependable, and IICRC certified; we are always on standby to guide you through all your water crisis needs. AllStates Restoration has been a New Jersey leader in water damage restoration for over 8 years, and have over 25 years of combined experience in the cleaning and restoration field.
We provide a 100% customer satisfaction guarantee, and we boast a 5 star rating from previous customers on Google.
[google-map location="Brick Township, NJ"]
Loss Located In Brick Township, NJ