Live Report April 12th, 2021 – Air Duct Cleaning in Monroe Township, NJ
Crew Dispatched to Air Duct Cleaning in Monroe Township, NJ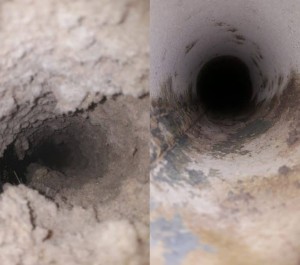 The homeowner had called about a month ago, worried about previous water damage causing mold in the home. Their daughter, who has an autoimmune disease, was not feeling well, and they were concerned with mold in the air and home. Since then we have been working diligently to get the home back to its pre-loss state while ensuring everyone's health.
The next step to tackle when removing airborne mold from the home was getting into the air ducts. Contamination builds up over time in the duct system. This build-up will reduce the efficiency, shorten its operating life, and continue to circulate the contaminants throughout the home. The solution is a thorough air cleaning system decontamination.
Air duct cleaning is helpful when making sure your home is not contaminated, and keeping your HVAC system in check. If you need air duct cleaning in Monroe Township, NJ, we can help.
Our specialists are local, dependable, and IICRC certified; we are always on standby to guide you through all your water crisis needs. AllStates Restoration has been a New Jersey leader in water damage restoration for over 8 years, and have over 25 years of combined experience in the cleaning and restoration field.
We provide a 100% customer satisfaction guarantee, and we boast a 5 star rating from previous customers on Google.
Loss Located In Monroe Township, NJ