Christine had water damage in her home due to her bathtub drain and overflow drain leaking Water in Monroe, NJ, Middlesex County Area. 
https://www.youtube.comwatch?v=_SLxDjlJNqw – bathtub drain and overflow drain leaking in Middlesex County
Christine is telling about Water Damage Restoration, bathtub drain and overflow drain leaking recovery experience in Middlesex County New Jersey.
Al:  I'm Al with AllStates Restoration. I'm here with Christine Marie from Monroe, NJ. Christine can you please tell us why you called AllStates Restoration to your home?
Christine: So, my daughter has an auto-immune disease and they can see it in her urine test, they found high levels of mold, which prompted me to call you guys over.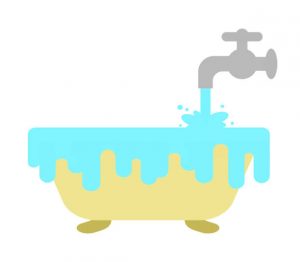 Al: Can you tell us a little bit about your experience with AllStates Restoration?
Christine: So, I called, you guys showed up. I think it was actually the same day you showed up, because you heard I had a sick child in the house. I guess it was alarming and takes president over every other job apparently, which was great. He came out, Carl and Daniel came out the same day to access the situation. They found a leak in my bathroom, that was found under my crawl space, and they were out the next day to start ripping out insulation and drying it out, and you know they were pretty much here the whole day setting thing up, they were here for quite awhile. Even after the equipment dried everything out, they were testing levels of mold, things like that, and each day that, that was happening, things were drying out. My daughter was feeling better and better. It was so wonderful, I can't even tell you I was in tears.  Like everyday to see her in bed for months, and couldn't even function, and she's much better, thank God. And that was the main priority. One thing I loved, Carl and the whole team knew their stuff. They knew, you know. The insurance company was overwhelming working with me not very well. Carl was able to guide me through that. So, to ease my anxiety over the situation. I think the compassion part of it really, a lot of companies don't have that compassion when it comes to these things. They treated my child and I like we were part of the family. Which is nice.
---
Another happy customer in Monroe TWP, NJ!
---
Al:
  Was there like a moment or experience that stood out the most?
Christine: It was just the priority of her, you know? That was, you know, and my insurance company tried to rob me. So thats not good.  So they really worked with me, through the whole situation to, and just easing my anxiety. I just had a lot pf concern with that, that was very helpful too.
Al:  Awesome. On a scale from one to ten, one being the lowest and ten being the highest, what would you rate us?
Christine: Kinda like a 12. Amazing response time and professionalism. You know, just top notch.
Al: So would you recommend us to family and friends?
Christine: I definitely will and already have!
---
Contact AllStates Restoration Today!
Call ASR or use our Contact page to ask any questions and get help from our experienced and professional staff! For all of your water damage Restoration and drying needs in the NJ area, trust AllStates Restoration to do a job well done.
To schedule a  bathroom water damage and mold cleanup appointment, call 732-722-5211 or click here.
---