Dawn had water damage in her home due to leaking pipe in Brick, NJ 
https://www.youtube.comwatch?v=_SLxDjlJNqw – Pipe Leak in Bayville Area
Dawn is telling about Water Damage Restoration, drying recovery experience in Brick TW County New Jersey.
Al: I'm here with Dawn Ferrentino from Brick, NJ. Hi Dawn.
Dawn: Hi, How are you?
Al: I'm good Dawn, thank you. Can you tell us what happened?
Dawn: Sure! I had a leak from a pipe behind my custom built in refrigerator, that leaked through the refrigerator, underneath, and all the way out to my granite marble tiles. And it not only caused flood damage, but mold damage as well. So I had to have somebody come in and rip apart everything that was effected.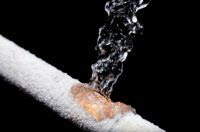 Al: Awesome. And can you tell us a little bit about your experience with AllStates Restoration please?
Dawn: They were available to be here as soon as I called Sean they were out with in hours coming down taking a look at it. Securing me, making sure I'm safe from the mold, rubbing things around the effected area and just constant communication daily. Making sure I was completely safe and that they were taking care of the insurance.
---
Yet another happy customer in Brick, NJ!
---
Al:
Tell me what you liked best about AllStates, what was your best experience ? What stuck out the most?
Dawn: The best experience was definitely the communication. There was constant communication, daily communication. Constant communication with emails, texting as well as phone calls. And the fact that they were here all the time. They didn't just come once or twice. They just didn't disappear, they were constantly here and making sure again that everything was taken care of.
Al: Awesome. On a Scale from one to ten, one being the least and ten being the most, what would you rate AllStates Restoration?
Dawn: Ten
Al: Would you refer us to family and friends?
Dawn: I absolutely would refer you to families and friends.
---
Contact AllStates Restoration Today!
Call ASR or use our Contact page to ask any questions and get help from our experienced and professional staff! For all of your water damage Restoration and drying needs in the NJ area, trust AllStates Restoration to do a job well done.
To schedule a  kitchen water damage cleanup appointment, call 732-722-5211 or click here.
---