Live Report April 7th, 2021 – Sewage Pipe Cleanup in Manalapan, NJ
Crew dispatched to Sewage Pipe Cleanup in Manalapan, NJ
The homeowner, who lives in a townhouse, called us to help out with a problem that stemmed from their neighbor. Their neighbor's sewage pipe got clogged, which then caused sewage water to go through the connected wall. It came in through the pantry and spread throughout first floor, contaminating everything along the way.
We arrived and got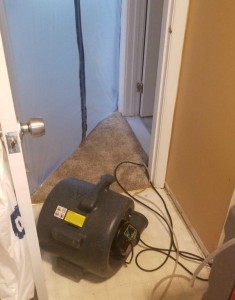 to work removing water and cleaning the home. The homeowner was worried about their family, because of allergies and asthma, so our well-trained technicians quickly removed sewer backup water, sewage and dirt from both under and inside the home using state-of-the-art equipment. We also treated the entire contaminated areas to avoid the spread of biohazards such as bacteria, viruses, parasites, fungi and mold growth.
Sewage water damage in your home is one of the most annoying occurrences, and walking in to discover it has flooded from a sewage pipe backup and break can ruin your week. If you are experiencing any kind of Emergency Water Damage in Manalapan, NJ, we can help in just 60 minutes.
Our specialists are local, dependable, and IICRC certified; we are always on standby to guide you through all your water crisis needs. AllStates Restoration has been a New Jersey leader in water damage restoration for over 8 years, and have over 25 years of combined experience in the cleaning and restoration field.
We provide a 100% customer satisfaction guarantee, and we boast a 5 star rating from previous customers on Google.
[google-map location="Manalapan, NJ"]
Loss Located In Manalapan, NJ