Live Report 03/17/20 – Mold Air Quality Test in Basement and Attic in New Egypt NJ
Inspection crew dispatched to perform a mold Air Quality test in New Egypt , NJ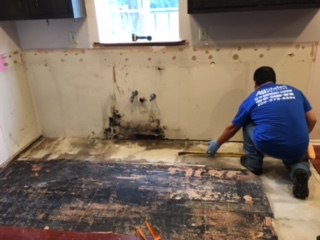 On 3/17/20 a customer called with concerns that she had possibly found mold in her basement.  We dispatched our mold inspector to investigate & perform mold testing.  While talking with the customer, we found out that she had a hot water heater leak a few months back.  She cleaned it up herself, and was now currently concerned of mold.  In further discussion, she asked us to check the attic because of a past leak, and sure enough, evidence of mold.  As per customer request, an air quality test was conducted both in the basement and attic, as well as a swab test and tape lift test in the areas of concern. We will have the results back from the lab within 24hrs.
All our technicians are NORMI and IICRC trained in mold inspection and remediation.
If you are experiencing any kind of Emergency or non Emergency Mold remediation in New Egypt, NJ we can help in just 60 minutes. Call today! (732) 956-3900
Our specialists are local, dependable and, IICRC, NORMI and IAQ certified; always ready to guide you with all your mold crisis needs. AllStates Restoration has been a New Jersey leader in mold mitigation and remediation for over 8 years, and have over 25 years of combine experience in the cleaning and restoration field.
We provide a 100% customer satisfaction guarantee and our google.com score by previous customers is a 5 star rating.
[google-map location="New Egypt, NJ"]