Mike had Fire smoke damage in his home due to Furnace Fire in Seaside Toms River, NJ, Ocean Co. Area.
https://www.youtube.com/watch?v=kMPRnmF949k – Furnace Fire Damage cleanup in Ocean County
Mike is telling about Smoke soot damage cleanup cause by Furnace electrical fire, Soot smoke cleaning experience in Seaside Toms River area, New Jersey.
Al:Here with the legend Mike Agugilaro — Hi Mike, Hey how are you doing?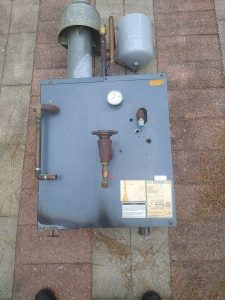 Mike: I'm good, I'm good.
Al: Mike, can you please tell us a little bit about your experience with AllStates.
Mike: Yeah, first off, had a major problem with a boiler, caused a little fire in the house. AllStates, gave them a call, came in, walked me through all the details, did an amazing job. I felt real comfortable through a very miserable process that can be really scary. You guys made it less scary for me
Al: I appreciate that Mike.
Al: Was there something that stuck out the most about us? Like one experience that you would…
Mike: Yeah, I mean the customer service, the process that you guys did, you had this special 360 video thing, you handled all the contents, you packaged everything up. I mean when you are dealing with a scary situation like this, you need someone that's not only empathetic of the situation, but also you feel confident that they are not going to leave you in the dark, figuring it out. And also dealing with these adjusters and stuff today. You guys had the skill set. Everybody from the people doing the soot cleaning to the leadership team
Al: I appeciate that Mike
---
Yet Another grateful client in Seaside, NJ! and the surrounding areas like Seaside Heights, Toms River, Beachwood, Lavallette, Mantoloking, Bay Head, Point Pleasant, Brick Twp, Lakewood, Lakehurst, Manchester Twp, Lacey, Forked River, Lanoka Harbor and Berkeley
---
Al: On a scale of 1 to 10, 1 being the least, and 10 being the most, what do you rate us?
Mike: A 10 PLUS.
Al: And would you refer us to family and friends.
Mike: I already have.
Al: Thank you Mike, all the best.
Mike: Boom!
---
Our fire/smoke damage cleanup services in Ocean Co. New Jersey include but no limited to:
Furnace Fire Damage Cleanup Seaside Toms River NJ
Crawl space smoke damage repair
Crawl space smoke cleaning
Smoke cleaning company
Soot cleaning services
Smoke damage cleaning service Ocean County
---
Contact (ASR) AllStates Restoration Today!
Call us or use our Contact page to ask if you have any questions and get help from our experienced and professional staff! For all of your Fire water damage cleanup and drying needs in the New Jersey area, trust AllStates Restoration to do a job well done.
To schedule a Smoke damage Inspection and cleanup appointment, call 732-722-5211 or click here.
---