Bob had water damage in his home due to leaking pipe in Brick, NJ, Lacey Twp Area. 
https://www.youtube.com/watch?v=f6DFdYLjvxY – Pipe Leak in Bayville Area
Bob is telling about Leaky Pipe Water Damage Restoration, Emergency water damage mold removal recovery experience in Lacey Twp Ocean County New Jersey.
Al: I'm here with Bob Miller from Lacey TWP. So Bob had a leaking laundry pipe in the laundry room that spilt into a guess bedroom. Bob can you tell us a little bit about your experience with AllStates please?
Bob: You guys took care of everything, it was painless. We did have a leak, but all things considered it went great.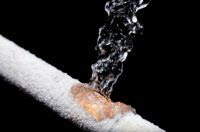 Al: Awesome. What did you like best with your experience with AllStates?
Bob: The fact you took initiative. I really didn't need to do anything, but sign the check.
---
Yet another happy customer in Lacey TWP, NJ!
---
Al:
If you had to rate us on a scale from one to ten, one being the lowest and ten being the highest, what would you rate us?
Bob: Absolutely a ten
Al: We appreciate that and good luck with everything.
---
Contact AllStates Restoration Today!
Call ASR or use our Contact page to ask any questions and get help from our experienced and professional staff! For all of your water damage Restoration and drying needs in the NJ area, trust AllStates Restoration to do a job well done.
To schedule a  laundry water damage cleanup appointment, call 732-722-5211 or click here.
---