Emergency Attic Mold Removal & Testing in NJ & NY – Central NJ, Morganville, Howell, Edison, Princeton, Freehold, holmdel, Toms River
Can you have mold in your attic and how does it get there?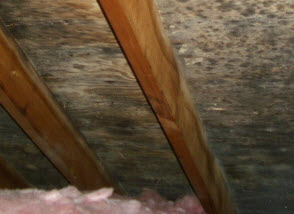 Mold can form in your attic with a moisture sources. If your roofing leaks during rains and drips into the attic it can get your wood joist wet and the insulation damp. If this takes place, the humidity is above 60 % in an attic and mold can germinate.
If it is neglected for many years mold will actually consume and damage the roofing trusses making your roofing weak.
If the insulation gets wet and sits for a long period of time, mold will sprout and remain to grow and ultimately grow through the ceiling into the primary living locations. This can cause mold damage and mold spores to form inside the living quarters of the house and put the owners at risk for health issues.