How to Eliminate Basement and Crawl Space Humidity Problems
Why are basements and crawl spaces notorious from being damp and humid spaces? If your basement is not flooding or leaking from the lines, where is the source coming from? The answer could shock you!
Moisture enters your below-grade space via concrete- even when the surface of concrete appears to be dry. The reality is, moisture can pass continually through concrete: take this into consideration- if concrete was watertight, it would never cure after it was poured.
As the moisture makes its path to the surface of the concrete, it's drawn into the air, adding to its relative humidity level. As it does so, it might leave a white, powdery compound on the basement walls, called efflorescence.
---
The Stack Effect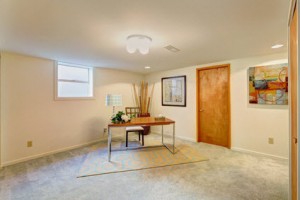 The method in which air moves within the property is called the "stack effect". With the stack effect, warm air moves upwards across the home. This heated air will climb until it reaches the top floor and attic, where it then leaves the home. Simple.
As air leaves from the upper floors, it pulls air upwards from below, including air from your basement and/or crawl space. The end result? Whatever contents the air contains, including humidity- will also be in your home.
If you have crawl space vents, the issue may be far more severe. In the summer season, humidity can flow into the crawl space from the outdoor air. Instead of moving out through various other vents, this air is pulled upwards into the home to fill the vacuum created by the stack effect. Crawl space vents simply do not work.
---
Crawl Space and Basement Hi-Humidity in the Home
Below is what high humidity levels indicate to your home:
Much higher Utility Bills
Damp air takes more energy to heat air rather than cool air. Air conditioners spend much of their energy dehumidifying the indoor air. If your crawl space or basement is packed with humidity, then your home will experience higher energy monthly bills as well.
Obviously, if you have crawl space vents, you can likewise imagine what the winter season's cold flowing into your home is doing!
Musty Smells
Humidity causes mold, dust mites, rot, mildew, and insects- These things lead to smells. If you have foul smells in your basement or crawl space which are wafting up inside your home, you can be sure the culprit is humidity. With mold spores and allergen waste at the base of these smells, you have far more than an unpleasant odor to be concerned with.
House Mold
House mold is a growing issue in homes across the United States, Canada, and the UK. A home with high levels of mold can hold thousands of mold spores in a single cubic meter of air. The average person breathes in ten to twelve cubic meters each day! If you're experiencing allergies such as a headaches or stuffy nose that occurs at home and seems to fade when you leave your home, this might be the reason. click to read more about home mold.
Dust Mites.
According to ICS Cleaning Magazine 54,000,000 people in America experience allergies- with an increase of 75% from 1980-2001. Dust mite waste counts for 80-90% of the allergenic elements of home dust. Dust mite waste also contains fifteen various allergenic parts. However, reducing home dust mites is an easy task.
Rot and Damage in a Basement.
In a basement, mold, mildew, and rot can influence a large range of materials. The raw materials in a basement, such as carpets, drywall, and paint can all become food for mold and rot. Furthermore, saved items which include textile, cardboard, leather-based, and furniture are all prone to this damage. Click to read more about Rot and damage.
Crawl Space Rot.
Dank, humid air in a crawl space indicates moist, rotting wood. This will eventually result in rotting support beams, mold spores, and drooping floors above. Over time, your house will end up being so damaged by this rot and mold that repair will be the only choice. Dehumidification is only part of the resolution to a humid, moldy crawl space. Click to read more about crawl space rot.
Here the 8 most typical questions regarding Basement and Crawl Space Humidity that our customers search for: [DDET click to expand]
Crawl space humidity sensor
Basement crawl space insulation
Crawl space humidity solutions
Ideal crawl space humidity level
Crawl space humidity level
Basement crawl space vents
Basement crawl space ventilation
Crawl space humidity monitor
[/DDET]
---
Basement and Crawl Space Hi-Humidity
At AllStates Restoration, we know that not everyone has the time as well as energy to deal with Basement and Crawl Space Humidity and Odor Removal. We happy to tell you that we're ready 24 hours a day, seven days a week to take your call and assist you.
To schedule Basement and Crawl Space Humidity Inspection Appointment, call 732-722-5211 or click here.
---